Way long ago (well, in 2010), I read Sarah Stovell's first novel Mothernight. Although I thought it went a teensy bit overboard on the misfortune, I thought Stovell's writing was absolutely gorgeous, and I wanted to read some of her sentences fifteen times. So when the publisher of her second book (at last!), Night Flower, emailed to ask if I wanted to participate in a blog tour, I jumped at the chance (of course).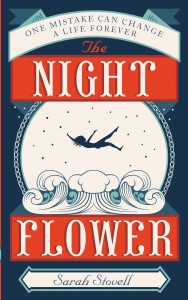 The beginning: Ah Sarah Stovell. The way she won my heart in the first place was the way she wrote about time in Mothernight. She begins Night Flower (affiliate links: B&N, Book Depository) by talking about time again:
All I've got now is a pile of hours, and hours ain't what folk think they are. They ain't certain. Measuring hours ain't like measuring water or grain, where one pint is one pint and one ounce is one ounce. Hours are slippery. They shrink or grow, depending on who they belong to, and if you're a body locked up in solitary confinement, then there ain't no way round the fact that you'll be getting the long ones.
These words belong to Miriam, a Romany girl now awaiting her execution in Tasmania. The book then jumps back to the time before Miriam was sent to Tasmania. Convicted of theft, she has been sentenced to transportation to Van Diemen's Land to work as a laborer there for seven years. In alternating sections we have another protagonist, Rose, a well-born women turned governess, who also faces a seven-year sentence for theft. Once they reach Tasmania, the two women are both sent to work at a nursery run by a Reverend Sutton and his wife.
The end (highlight the blank spaces for spoilers): I'm curious why Miriam ends up in solitary confinement and why her soul is "for the devil". It can't just be because she's Romany. It turns out she killed Reverend Sutton. And it turns out that Rose is going to (metaphorically) sell Miriam down the river. Well, I am not unduly surprised, I guess, but I did hope that Rose and Miriam were going to become faithful friends for life.
The whole: Night Flower reminds me of nothing so much as Slammerkin by Emma Donohue, another historical novel about the misery of being boxed into one version of what the world thinks you are. Even before she is convicted of theft, Miriam is generally despised for being a gypsy; and afterward, she has no hope at all. Rose tends to be given the benefit of the doubt, as an upper-class Christian woman; but Miriam, a poor Romany girl, is assumed to be fundamentally wicked.
There's a crucial theme here that Stovell returns to over and over: In this time, in this circumstance, it is far less important what you do than what you are. Miriam and Rose have committed the same crime, but Miriam isn't Christian, or well-spoken, and she has never been well-off; so Rose is treated better. She gets a cushier job at the Suttons' nursery, and it's clear the Suttons trust and like her much more than they do Miriam. Meanwhile, Reverend Sutton is known by everyone to be an awful person. There are rumors that he sells babies, and Miriam can see for herself that he frequents the brothel across the street. But this — the faults that the women know of — doesn't matter to his position in society.
I'd have liked to see more shades of gray in some of the characters. Once you know Rose's entire backstory, she comes to appear fairly one-note in retrospect, and the note in question is not my favorite way to portray a female character. Reverend Sutton never displays any redeeming qualities, and while Sutton's son John undergoes change over the course of the book, you don't really get to see the conflict that the change causes in him.
Night Flower is currently on a blog tour. The review schedule is below if you're interested in reading other people's thoughts on the book.
Yesterday – iheartbooks.wordpress.com
Tomorrow – www.novelkicks.co.uk
11 August – readinginthesunshine.wordpress.com
12 August – shazsbookboudoir.blogspot.com
13 August – www.mamajhearts.co.uk
14 August – dizzycslittlebookblog.blogspot.co.uk
15 August – bookswithbunny.blogspot.co.uk
Note: I received this book from the publisher in exchange for an honest review.