I have a tremendous literary crush on Anne Carson. This started when I read her book Nox, which is not only an elegy for her brother and a beautiful artistic object in itself, but also an elegant taking-apart-and-rebuilding of Catullus 101, itself a lament for a deceased brother. She has also been quite wonderful with Sappho, a poet I have always assumed I admire on the basis that Catullus worshiped her and I love Catullus so he's probably right, and having read If Not, Winter, I see no reason to go back on my earlier assumptions about Sappho.
Antigonick is a translation of Sophocles's play Antigone, with tangentially-if-at-all related illustrations by Bianca Stone. It's written in Anne Carson's handwriting, with small capitals, black and red text, and only occasionally punctuation. The effect of this is a little like reading Don Marquis, if his cockroach poet were inclined to write poems set in ancient Greece (and of course if he were writing by hand rather than on a typewriter).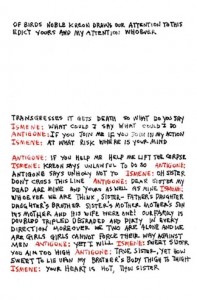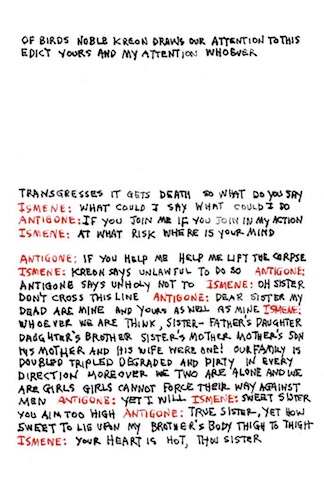 Carson is not concerned with a literal translation, letting her characters remark upon various interpretations of Antigone throughout history — Brecht, Hegel, George Eliot. They employ modern turns of phrase — when Kreon says to Antigone, "You're the one?", she answer, "Bingo." What Carson appears to be after is not the grandeur of the play but its oddness, how the tragedy lacks that inevitability that you find in Oedipus and just feels strange, unnecessary. She captures completely the inconvenience of Antigone's morality, an Antigone feature of which I am very fond as it reminds me of my unflinchingly moral big sister. Viz.:
Ismene: you are a person in love with the impossible
Antigone: and when my strength is gone I'll stop
The oddness of the play generally and Carson's translation of it in particular are enhanced by illustrations by Bianca Stone on translucent vellum paper. The relationship of these illustrations to the text of the play is obscure (and at times nonexistent), but they are tonally a perfect match for Carson's translation.
There is one for you to look at. You can't get quite the full idea of the book without seeing the translucent pages against the black-and-red text, but use your imagination. Stone and Carson have produced a strange and lovely book, which I recommend both for its ideas and for its physical beauty.