This week on the Reading the End Bookcast, we talk about music and the role it plays in books, and we review Jennifer Egan's greatly beloved A Visit from the Goon Squad (affiliate links: Amazon, B&N, Book Depository). Then we play a game of matching similes to the authors who wrote them, and wrap up by answering some listener mail. You can listen to the podcast in the embedded player below or download the file directly here to take with you on the go.
Or if you wish, you can find us on iTunes (and if you enjoy the podcast, give us a good rating! We will appreciate it very very much).
Here are the contents of the podcast if you'd like to skip around:
Starting at 1:11 – We talk about music in books. Do you prefer books that talk about real music, or books that talk about music the author just made up?
3:45 – While making these show notes, I suddenly realized that all the books we're discussing are by men. That's weird, isn't it? Do male authors write about music more than female authors do? Is that a thing?
8:37 – Can you hear me hastening to put a stop to Whiskey Jenny's feeling at all favorable towards Stephenie Meyer?
9:40 – Serious question, listeners. We are thinking about doing a thing from now on where we propose Track #1 of the soundtrack to the book we are reviewing that time. Would you hate us if we did that? Would you think we were pretentious?
Starting at 11:48 – We review the much-acclaimed A Visit from the Goon Squad, a book whose name I have a very hard time remembering.
13:32 – Here is Whiskey Jenny's aforementioned chart of the characters in A Visit from the Goon Squad and the relationships among them. Isn't it great? Aren't you impressed by Whiskey Jenny?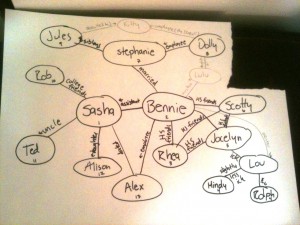 21:23 – Useful writing tip for y'all here.
Starting at 27:15 – We play a game where we have to guess what author produced the simile that Randon reads to us. We have missed game time.
34:10 – I refer you to Monday's post about the new editions of Harry Potter, about which I am extremely excited. I was just waiting for my opportunity to report this news to Whiskey Jenny.
Starting at 39:25 – Listener mail, and a plea for help! Listener Anna wants some audiobooks to listen to while she's doing science, and neither Whiskey Jenny nor I are big audiobook listeners. I got some recommendations from Legal Sister, who listens to audiobooks in the car, but I could use some more recommendations from y'all! Please let me know some ideas.
Starting at 41:29 – Our recommendation for next time! The next podcast is going to be a comics podcast, in which we read some classic Sandman and the first volume of the new Sandman: Overture series. We will also read Scott McCloud's wonderful book Understanding Comics and talk about that. Join us!
And finally, a programming note: Our next podcast would ordinarily drop on Christmas Day, but we know that y'all are far too busy with the holidays to be bothered with listening to us talk. So we're going to release a short podcast about Christmas books on the 25th, and we'll be back with our next full-length podcast on 8 January 2014.
Credits
Producer: Captain Hammer
If you visit us on iTunes, you'll notice that the old photo has met its demise beneath the bright eyes of the beautiful Annalee
Song is by Jeff MacDougall and comes from here.