Throughout her childhood, Laurie Sandell's father would enrapture her with stories of his brilliant, varied, and successful life: top grades at the best universities, meetings with Henry Kissinger to advise on policy, multiple awards for valor in the Vietnam War. As an adult, she spun through years of dysfunction and uncertainty before becoming an interviewer of celebrities. But Sandell also begins to learn things about her father that make it clear he isn't, and never was, the person he claimed to be.
Cover report: Same cover in England and America. I like it!
To begin with the good things about The Imposter's Daughter (affiliate links: Amazon, B&N, Book Depository): It's a fascinating portrayal of the way Sandell's father's dishonesty permeated her life. As a little girl, Sandell is told that she's her father's favorite, and you can see that she's subconsciously fighting hard to hang onto that designation. She sits at his feet and listens to his stories, always trying to get him to keep talking–a habit that serves her well when she gets a job as a celebrity interviewer. But as happy as little Laurie's relationship with her father appears to be, her cartoons from the time (reproduced in the book) make it obvious that she knew more than she knew she knew.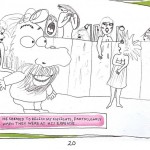 Sandell is funny and insightful, and she doesn't spare herself any more than she spares her father. Her years of listening to crazy stories from her father have given her a wonderful taste for the absurd, and it comes out in the writing and the art.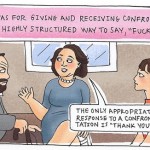 She also addresses head-on the concern that I always bring up when I'm reviewing family memoirs, which is her family's response to what she's doing. Prior to writing this book, Sandell published an anonymous article that discussed her father's insane lies and the effect they had on her. Her father was predictably outraged, cutting off contact with Sandell, and her mother and sisters were angry too. Rather than engaging with Sandell about what she had found out, they clearly wished that she would just stop talking about it. Sandell includes these reactions in The Imposter's Daughter, which didn't alleviate my discomfort with the Family Memoir as a genre (it's not alleviate-able — Family Memoirs are an uncomfortable genre), but at least acknowledged the inevitability of its presence. I couldn't help wondering what a piece of life writing by Sandell's mother or sisters would look like: How do they tell their father's story to themselves? Or do they steer clear of it in their minds, as Sandell seems to think?
For all the positives, though, The Imposter's Daughter ends up feeling more like a therapy session than like a story that needed to be told. Jennifer Finney Boylan, whose book She's Not There I am going to read and review later this month (I hope), was born to write stories; she can take four disparate events in her life and weave them into something that feels like a narrative. Sandell doesn't have the same gift. There is urgency in The Imposter's Daughter: you can see that it is important that Sandell have some medium to insist upon her own reality when her whole life has been predicated on this other, not-real reality. But that insistence isn't the story Sandell spends most of her time on, and the book suffers for it.