Note: Whiskey Jenny and I talked about Half-Blood Blues on our most recent podcast — go check it out if you're a podcast listener! Mumsy is always telling me to write review posts of the books we review on the podcast, so I am giving it a try.
The beginning: The first chapter of Half Blood Blues won me over completely. One of my favorite books, Sunshine, begins with the line, It was a dumb thing to do but it wasn't that dumb, and although that is not an eloquent description of a phenomenon that worries me greatly, it is an exact description of it. You just never know when you will make a choice that you think is a little dumb, a little risky, and that choice that you thought was going to be nothing (the way most of your choices are every day!) will turn out to be the whole ballgame.
That's how Half-Blood Blues starts. A hungover half-black trumpeter called Hiero, living in occupied Paris, has finished a discouraging recording session and he wants some milk. He and our narrator, Sid Griffiths, go across town to get some milk at the only store that's open at that hour. Sid goes into the back to be sick, and while he's back there, the Nazis come in, and Hiero doesn't have his papers, and he's taken away.
From there, the book tells the story of Sid and Hiero and their band, and how they got to occupied Paris, and what happened that three of their original number were missing. In the present day (well, 1992), it tells the story of a now-old Sid, who goes to Berlin with another surviving band member, Chip, to watch a documentary about Hiero for which they provided interviews.
The end (spoilers in this section only, so skip it if you don't want to know!): Esi Edugyan must know my heart, because the end is the same as the beginning. In the end, we discover that Sid, desperate to make this recording that he knew was going to be something special because Hiero was something special, took delivery of Hiero's papers (including a visa to get him into Switzerland), but hid them. He thought, "We just need a few hours, just one good goddamn take." In the present day, he admits this to Chip and to Hiero (oh, Hiero's alive, by the way; you find that out a few chapters in), and Hiero doesn't forgive him but he doesn't not forgive him.
The whole: Half Blood Blues is a book about music more than it is a book about World War II. That said, when Edugyan takes the time to evoke the setting, she does a marvelous job of exploring the strange, uncertain status of black Germans and black non-Germans in the early years of the Second World War. Where Chip and Sid can walk relatively freely in Germany and France, as Americans, Hiero is liable at any moment to be taken by the Nazis, charged with a crime he did not commit, and sent to a concentration camp.
While the central conflict of the book is the question of whether Sid had a hand in Hiero's capture, Edugyan creates suspense wonderfully by starting her 1942 story at the end. The reader knows from the start that Hiero will be taken, and that only four people remain to make a very important recording, and that one version of an important recording will be kept. When the book returns us to the weeks leading up to the recording and Hiero's capture, there are six band members and no particular mention of recording a track. The importance of the song is tangled up with the band's attrition and the ever-growing power of the Nazi regime. It's wonderfully done.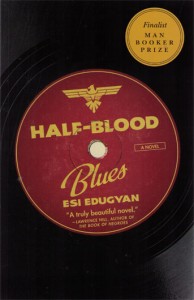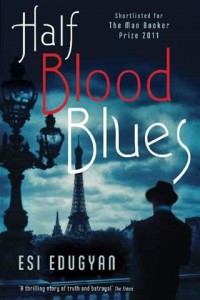 Cover report: I like the record on the American cover, with the Nazi insignia above it; really, this is a book about music, not a book about war. The British cover is a generic war/Paris/nostalgia sort of book cover. American cover wins.
affiliate links: Amazon, B&N, Book Depository