The Tournament of Books is on, and the Jennys are here to talk about it! We also review Helene Wecker's The Golem and the Jinni and play a literary Winter Olympics game. You can listen to the podcast in the embedded player below or download the file directly here to take with you on the go.
Audio clip: Adobe Flash Player (version 9 or above) is required to play this audio clip. Download the latest version here. You also need to have JavaScript enabled in your browser.
Or if you wish, you can find us on iTunes (and if you enjoy the podcast, give us a good rating! We appreciate it very very much).
Here are the contents of the podcast if you wish to skip around:
Starting at 1:03 – We discuss our brackets for the Tournament of Books, the first two match-ups, and the Scott McClanahan scandal. Cut from the podcast is some talk about killing Hitler in fiction, inspired by this delightful article, "Time travellers: please don't kill Hitler," which we invite you to read.
Whiskey Jenny's bracket: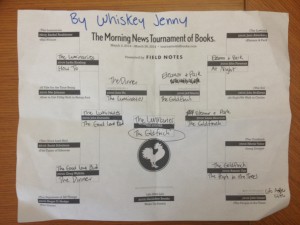 Gin Jenny's bracket: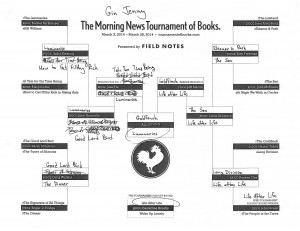 Coin toss bracket (note that the "reader's choice" books were selected using Random.org):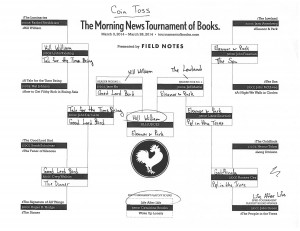 (Note that as of this post, Whiskey Jenny and I are both doing rather badly on our brackets. Coin Toss is killing it.)
Starting at 9:54 – We didn't like The Golem and the Jinni. We thought it was fine. We could live without it.
Starting at 20:59 – OLYMPICS OF BOOKS. I disagree with some of Randon's decisions (both in my favor and against me), and I will give interviews saying so in the upcoming weeks, a la Ashley Wagner. (See that? I know Olympics stuff!)
Starting at 53:00 – I give my recommendation for next time. Five years later I'm finally going to read Christos Tsiolkas's The Slap. (Note from the future: What I thought about the book when making this recommendation was almost a hundred percent wrong. I had completely the wrong mental image of this book.)
53:46 – Closing remarks and outro
Credits
Producer: Captain Hammer
Photo credit: The Illustrious Annalee
Song is by Jeff MacDougall and comes from here.