Show of hands in the comments: Who played an instrument in their youth? What instrument and for how long? Why'd you start, and if you quit, why'd you quit and do you miss it?
I had piano lessons for part of middle and high school. My second-grade teacher, who was really primarily a music teacher, came to my house once a week and taught me and Social Sister how to play. I was okay. I have big hands, so that was good, but I never had a really good feel for the way the music flows. If I were wealthy, I'd probably buy a piano and take it up again, but it would be, like, a slightly shabby upright piano. Anything fancier would hastily out-fancy my ability to play.
The Lucy Variations (affiliate links: Amazon, B&N, Book Depository) is about a girl whose ability to play cannot be outfancied by even the fanciest of grand pianos. Lucy Beck-Moreau is the scion of a piano playing legacy, her grandfather's great hope. By the time she's a teenager, she's won more major piano-playing contests than you can shake a stick at, and there seems to be nothing that can stop her musical career. Until she walks away from her piano at a competition in Prague and never plays another note.
Eight months later, her little brother, Gustav, has become the flagship of the family. When his piano teacher dies in their living room, the family has to hire a new teacher: a man called Will who becomes the first person ever to ask Lucy, What do you love?, and to remind her that she once played music for love, not for obligation.
I am very torn on The Lucy Variations! On one hand, I was completely engaged when I was reading it; I wanted to get back to it when I was away. On the other hand, there were a lot of times when I could not tell what Sara Zarr's attitude toward her characters was, and what my own attitude toward them was supposed to be. For instance, Lucy is a dreadful friend. Just awful. She has two main friends, Carson and Reyna, and she regularly asks more of them than she gives. Although they each bring this up to her in the course of the book, and she does not seem to think it is false, it doesn't engender in her any sense of obligation.
Or another thing: The book does not seem to acknowledge the genuine harm that Will does to Lucy by failing to set appropriate boundaries. I know Sara Zarr knows what the appropriate boundaries are, because Lucy's English teacher more or less sets them. Will does not; it is shitty. I was uncomfortable with Will from the get-go. It's established early on that Lucy looks older than her age, and I never liked Will's way of singling her out and making her something more than a student's sister, or even a student herself. The book doesn't give him a pass on all fronts, but I think it gives him too much of a pass on this front.
Or another thing again: Lucy's social strangeness is pretty obvious as you're reading the book. The idea is that Lucy's music required a schedule that a regular school would not have permitted; so she had tutors for a great deal of her career. She's more comfortable with grown-ups than with kids her own age, and she has a habit of developing crushes on men who are much older. I'd have loved Lucy's process of self-discovery—which focuses almost exclusively on whether and how she wants to approach music going forward—to include some changes on the social strangeness front. That would have been an interesting plotline, right? How to figure out social norms when they haven't been bred in you beforehand? But no, there's really none of that.
This is one of those reviews that came out much more negative than my actual experience of reading the book. I liked reading it! I think Sara Zarr is a tremendous YA author who should be more famous than she currently is. However, The Lucy Variations is not her greatest success with character consistency and so forth.
Here then is the now-definitive ranking of Sara Zarr's books, from worst to best. I will revise as needed when she writes more books in the future. Coauthored books don't count; that is a whole other thing.
Story of a Girl
Once Was Lost / What We Lost
The Lucy Variations
Sweethearts
How to Save a Life
This holds true whether or not you account for the fact that Once Was Lost turned out to be the straw that broke the camel's back as regards missing white girls. So there you go. If you want to love Sara Zarr, start with Sweethearts or How to Save a Life, but do be aware that you're starting with the best ones, and the other books won't be quite that awesome.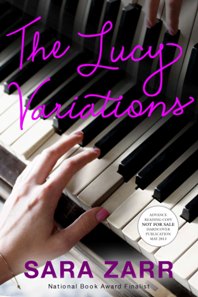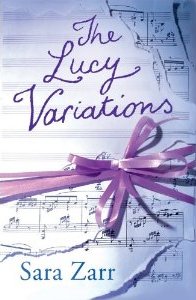 Cover report: American cover wins because it has an actual piano on it, and I like the title font slightly better.