Rutu Modan draws the people in her comics as if they are made of human bodies. There's no good reason this should be so striking and touching, but somehow it is: Her characters are not at all times trying to appear to best advantage. They are made of human matter. Sometimes they look their best, and other times they do not.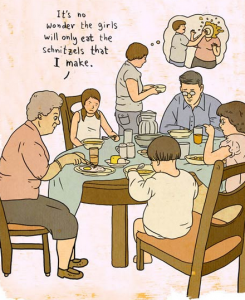 The Property is Modan's first full-length comic since the acclaimed Exit Wounds in 2007, and it's well worth the wait. Mica has come to Poland with her grandmother, Regina, to reclaim the property that Regina's family lost during the Nazi regime. But once they arrive in Poland, Regina seems to lose interest in the property, dodging Mica's questions and taking off on mysterious errands of her own.
For some reason, I haven't heard anything about The Property, but I wish I'd read it ages ago. It's made up of several stories you've heard before (sad family secrets coming out, long-ago lovers being reunited years later, memories of the Holocaust and what it means to grandmothers and to granddaughters), put together to produce something utterly lovely. I closed the book and said out loud, "Well, that was lovely."
Modan is writing about — among other things — very sad events, and she manages to treat them with the weight they deserve while also being quite irreverent. Mica runs into a woman who works for a reenactment and memorializing organization; as she's giving Mica tea, she says, "My dream is to rebuild one of the Ghetto streets….All these ugly buildings should be blown up and rebuilt the way they used to be. I really miss the Ghetto." It's funny, but the woman saying it isn't being played for laughs. It just is the best. It's just the best.
Y'all, I just went wandering around the internet reading more of Rutu Modan's stuff, and I have developed a huge girl-crush on her. I'm adding a Favored Authors tag mostly on the strength of The Property (honestly, this book was lovely), but also because Rutu Modan just seems great. For further evidence, check out her comics blog from 2007 on the New York Times. You can also read her serialized comics story "The Murder of a Terminal Patient" at the New York Times Magazine.