In a podcast first, Whiskey Jenny and Randon and I were all in the same room on a recording day! It was a very exciting time, and I think our deranged joy comes through pretty clearly in the podcast. We talk about gateway books for ushering people into the  joys of new genres; we review Nick Harkaway's Tigerman (affiliate links: Amazon, B&N, Book Depository); and we play a tricky game invented by Whiskey Jenny about pangrams. You can listen to the podcast in the embedded player below or download the file directly to take with you on the go.
Or if you wish, you can find us on iTunes (and if you enjoy the podcast, give us a good rating! We appreciate it very very much).
Here are the contents of the podcast if you want to skip around:
1:26 – We have no mic for the puppy, but here's a picture of her!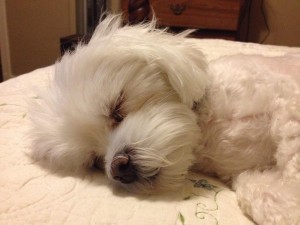 Starting at 1:40 – We talk about gateway drugs! If you were going to try to get your friend into a genre, what would you start them on? Or conversely, what are some books that have put you off a genre?
13:46 – The true answer is that I thought I had more successfully concealed this preference from Whiskey Jenny. Turns out I am not that sneaky.
19:25 – I forgot! Whiskey Jenny plays the clarinet! Duuuuuuuhhhhhh. I can't believe I relegated her to triangle when I know perfectly well that she knows how to play the clarinet! I have helped move her clarinet between three separate apartments.
Starting at 21:17 – We discuss Tigerman! This may be the book about which we disagreed the most, in the whole history of this podcast. Whiskey Jenny loved it super hard, and I was furiously outraged at how the book turned out. Spoilers throughout.
Starting at 30:20 – The hardest game ever! Whiskey Jenny reads us pangrams with a word missing, and we have to guess the missing word. Spoiler alert: We are really awful at it.
Starting at 43:30 – I recommend our book for next time!
44:57 – Closing remarks and outro.
Credits
Producer: Captain Hammer
Photo credit: The Illustrious Annalee
Song is by Jeff MacDougall and comes from here.