Happy Wednesday! This week, we're talking about adaptations of classic novels and reviewing Alexander McCall Smith's updating of Jane Austen's Emma. We're also getting back to our roots with a polar explorer update! You can listen to the podcast in the embedded player below or download the file directly here to take with you on the go.
Audio clip: Adobe Flash Player (version 9 or above) is required to play this audio clip. Download the latest version here. You also need to have JavaScript enabled in your browser.
Books discussed in this podcast are listed, in order, below. If any book is an adaptation of another book, the source material is listed in parentheses.
Wicked, Gregory Maguire (The Wizard of Oz, L. Frank Baum)
Confessions of an Ugly Stepsister, Gregory Maguire (Cinderella. This doesn't count.)
Rosencrantz and Guildenstern Are Dead, Tom Stoppard (Hamlet, William Shakespeare)
Fool, Christopher Moore (King Lear, William Shakespeare)
Wide Sargasso Sea, Jean Rhys (Jane Eyre, Charlotte Bronte)
Longbourn, Jo Baker (Pride and Prejudice, Jane Austen)
Lady's Maid, Margaret Forster
Alias Hook, Lisa Jensen (Peter Pan, JM Barrie)
pause for you to enjoy the Go Fug Yourself recap of the live Peter Pan. It's superb. I did look it up as soon as we were off the phone.
Re Jane, Patricia Park (Jane Eyre, Charlotte Bronte)
Ana of California, Andi Teran (Anne of Green Gables, LM Montgomery)
CLUELESS even though it's not a book, because it's the greatest book adaptation there's ever been.
Salome, Oscar Wilde (Salome story from the Bible!) PLUS: Dirtbag Lord Alfred Douglas.
Many Waters, Madeleine L'Engle (Noah's Ark story from the Bible)
Behold Your Queen, Gladys Malvern (Esther story from the Bible)
Game of Queens, India Edghill
The Once and Future King, TH White (King Arthur story) (please enjoy Madam Mim)
Wishing for Tomorrow, Hilary McKay (A Little Princess, Frances Hodgson Burnett)
Ulysses, James Joyce (the Odyssey)
The Lost Books of the Odyssey, Zachary Mason (READ THIS SERIOUSLY THO)
Book reviewed this week: Emma, Alexander McCall Smith
But instead of that, read Emma by Jane Austen cause it rocks, and then watch Clueless.
The Ice Master, Jennifer Niven (the story of Bartlett's extremely disastrous journey on the Karluk)
Ada Blackjack, Jennifer Niven
All the Bright Places, Jennifer Niven (the buzzy YA novel in question)
Here's the adorable toddler who was on the Karluk trip. LOOK HOW CUTE THIS BABY: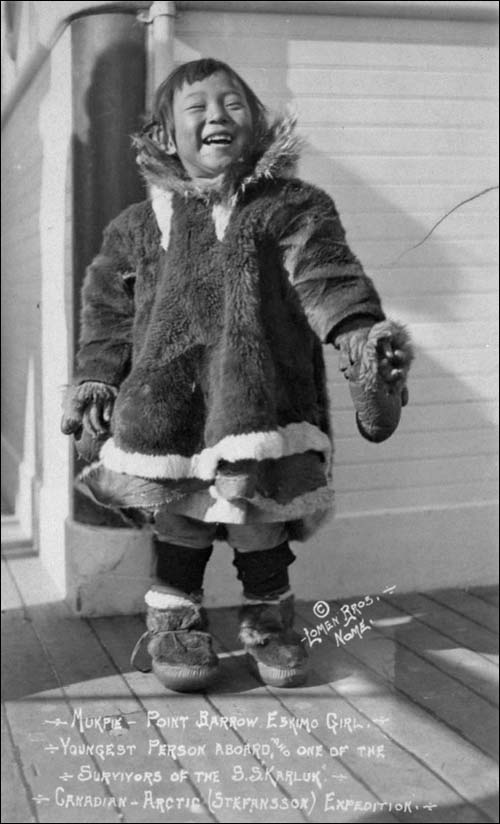 For next time: Uprooted, Naomi Novik
Get at me on Twitter, email the podcast, and friend me (Gin Jenny) and Whiskey Jenny on Goodreads. Or if you wish, you can find us on iTunes (and if you enjoy the podcast, give us a good rating! We appreciate it very very much).
Credits
Producer: Captain Hammer
Photo credit: The Illustrious Annalee
Song is by Jeff MacDougall.