Very very belatedly, I have managed to write a post for the wonderful August edition of the Social Justice Book Club, hosted by the glorious and brilliant Kerry at Entomology of a Bookworm. I promise to be more prompt in future posts.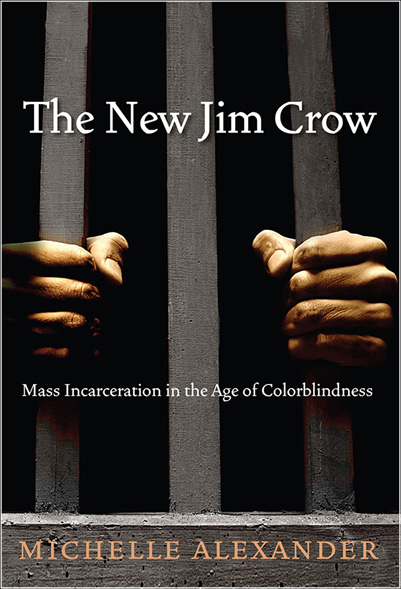 1. Where do you plan on discussing this book the most? Feel free to share links to your blog, social media channels, snap handles, etc.
Mostly on the blog! I'll be answering mid-month and end-of-month discussion questions, and I'll also probably be twittering about it at @readingtheend as I go along, with the hashtag #SJBookClub.
2. Why did you decide to join in on the reading and/or discussion of this book?
A couple of reasons, the most important being that I've been meaning to read The New Jim Crow practically since it came out — but in a rather heartening turn of events, it's been checked out from my public library every time I've thought to look for it.
On a more macro level, one of the big things to come out of Book Blogger Appreciation Week this year is that I'm connecting more to other nonfiction enthusiasts around the blogosphere. There are more of us than I realized! So the Social Justice Book Club is a terrific way for us all to get together and chat about the greatness of nonfiction.
3. In the very first line of the introduction to the book, Michelle Alexander writes, "This book is not for everyone." What do you make of that as a entree into The New Jim Crow? 
Mm, radical honesty. Cynically, it's a good way to make readers who are already receptive to Alexander's ideas feel like virtuous mavericks of the book world. But equally, it's just a statement of fact: Many people do not want to be forced to look at the racial injustice in our criminal justice system, because it upsets the feeling that one lives in a just universe, and it is pleasant to feel that one lives in a just universe.
4. What, if anything, are you most looking forward to about this book?
Learning more specifics about the ways the criminal justice system targets racial minorities. I already believe that to be true, but I'm looking forward to getting into some of the nitty-gritty details. I'll be particularly interested to learn about some of the ways that historical racial segregation continues to impact laws and law enforcement w/r/t minority populations.
Thanks to Kerry for hosting. I can't wait to dig into this book!