It's time for another romance novels round-up! I recently did an awesome interview with a grad student who's studying romance novels and feminism, and it reminded me that while I still read romance novels, I haven't talked about them in quite some time. But in fact, I have been reading some incredibly adorable romance novels that you should know about, so let's get into it.
First up: Roller Girl, by Vanessa North. Tina Durham is a recently divorced former sportsing champion1 who gets a crush on her new plumber, Joe (short for Joanne). Through Joe, she gets involved in a local roller derby team, and they fall in lurv.
F/F romance novels do not get nearly the love and attention of their het and M/M counterparts, and it's a damn shame. Roller Girl was the sweetest romance novel I've read in a while (except see also Looking for Group, below), and it was wonderful to see a trans protagonist who's already gone through her transition and is trying to figure out life on the other side; who receives courtesy and not persecution by the people she's out to; and who gets a happy ending with a super-nice romantic partner. And she gets to be awesome at roller derby at the same time!
If you have other roller derby romance novels to recommend, please do so in the comments. I have been starry-eyed over roller derby (concept of; I do not want to play it; I am weak and unsportsy) ever since the excellent Ellen Page movie Whip It.
Next up: Alexis Hall's latest, Looking for Group. This one's about a university student named Drew who develops a crush on a girl (he thinks) in his World of Warcraft guild. (It's not called World of Warcraft in the book, but I am very clever and figured out that it's basically World of Warcraft.) When Solace turns out to be a guy called Kit, Drew has to sort out his feelings about Kit, his own apparent bisexuality, and his relationship to the world of gaming.
Alexis Hall is great at making me feel feelings using only his words — the emotional truthfulness of his romance novels is always what keeps me coming back. Looking for Group was no exception. It starts with, and continues to include, some very dense passages where the characters are playing Pretend World of Warcraft — I have never played a video game a day in my life (except, like, Mario Kart or Guitar Hero very occasionally, both of which I'm terrible at), so this was a hurdle I had to clear to get to the meat of the book.
But! If you can hang in there (and consult the gaming vocab glossary at the back of the book), it's well worth it in the end. Hall deals with Drew's college-student-ness so incredibly well — the way each half of a friendship can perceive each other and the friendship in unrecognizably different ways; that thing where you will lounge around with a group of people for hours/days trying to figure out what the next activity of the friend group will be; the difficulty of incorporating a new partner into an established friend situation without friction. It's a genuine dear of a book.
Okay, on to the Scots! I am sorry that I said "ugh" in the post title. I am not mad at real-life Scots. It's Scottish romances I can't abide, which is why it took me this long to read the newest Sarah MacLean book, even though she's one of my fave romance writers. Reluctant Duke Warnick comes to London under duress, having discovered that in addition to all his holdings, he's inherited a ward named Lily — who appears to have been Ruined and now requires Saving. He's determined to get her respectably married, guess what they fall in love, not a spoiler, you already know what romance novels are.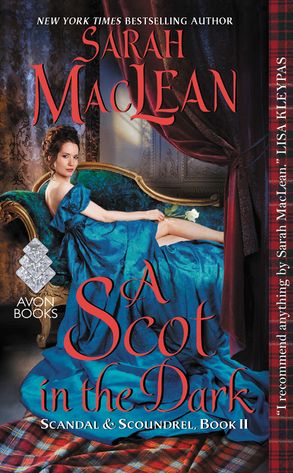 Luckily for me,2 the Scot isn't all that Scottish. I had to skip past some moments where his heart and dick swelled because his lass was wearing his tartan (vom), but apart from that it was mostly okay. Per usual, Sarah MacLean is funny and feminist, and it's always fun watching her characters unravel their emotional dilemmas.
(Her sex scenes can get a teensy bit schmoopy, if that's a thing that bothers you. I skipped some bits. Tartan, and such.)
What about you, my loves? Read any good romance novels lately? I am always open to recommendations!
Full disclosure, I do not understand what the sport is that she used to do professionally. Something with water? Huh huh watersports oh God this footnote has gone downhill very rapidly, I apologize to everyone. ↩
I have an extreme aversive reaction to even the smallest amount of Scottish accent depicted textually. ↩