Happy holidays, friends! The demographically similar Jennys are here in our last podcast of the year to tell you what to buy your loved ones this holiday season. WE LOVE PRESENTS. You can listen to the podcast in the embedded player below or download the file directly here to take with you on the go.
Audio clip: Adobe Flash Player (version 9 or above) is required to play this audio clip. Download the latest version here. You also need to have JavaScript enabled in your browser.
Our Own Personal Gift Guides
Whiskey Jenny: Classy af laundry products from The Laundress
Gin Jenny: The Unbeatable Squirrel Girl in trade paperback
(You can read Ryan North's Dinosaur Comics here.)
Whiskey Jenny: Adorable bathroom accoutrements. This Umbra Kleenex holder:
And this Melon Boat Q-tip holder:
Gin Jenny: This Kikkerland bed caddy, made of felt:
Whiskey Jenny: Kinetic sand. Here's a video!
Gin Jenny: Johanna Basford's Christmas coloring book.
Whiskey Jenny: Commission some fan art! The person she commissioned for her new apartment with Snapple Alex can be found here.
Gin Jenny: Coryographies bookshelf necklaces (on Etsy!).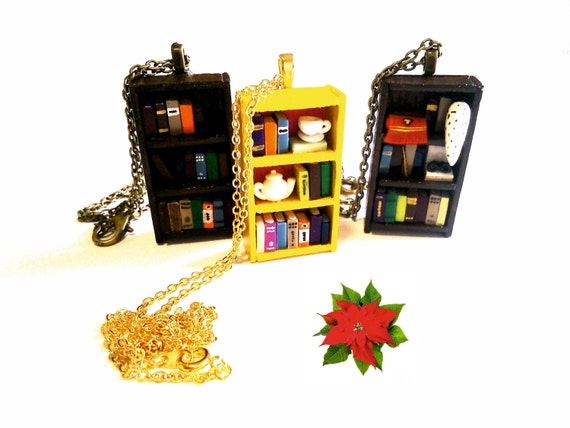 Whiskey Jenny: Perfumes from Black Phoenix Alchemy Lab
Gin Jenny: A cooler bag. Also, packing cubes. EBAGS DOT COM!
And then we had some v. good recommendations for individuals who asked for help via our holiday gift guide form. WE HOPE THESE HELP YOU but if not please email us for additional assistance.
Tracy
Every Boy's Got One, Meg Cabot
The Royal We, Heather Cocks and Jessica Morgan
Eat Cake, Jeanne Ray
The Tapestry of Love, Rosy Thornton
Natalia
Chicka Chicka Boom Boom, Bill Martin, Jr. and John Archambault, illustrated by Lois Ehlert
Happy Hippo, Angry Duck, Sandra Boynton
This Is Not My Hat, Jon Klasson
Wild, Emily Hughes
Erica
Bel Canto, Ann Patchett
Mr. Fox, Helen Oyeyemi
The Kings and Queens of Roam, Daniel Wallace
A General Theory of Oblivion, Jose Eduardo Agualusa, translated by Daniel Hahn
Lindsey
The Possessed, Elif Batuman
Your Favorite Band Is Killing Me, Steven Hyden
Juliet Naked, Nick Hornby
Star Island, Carl Hiaasen
Chelsea
The Dresden Files, Jim Butcher
The Lives of Tao (et seq.), Wesley Chu
The Quantum Thief (et seq.), Hannu Rajaniemi
Jessica
The Secret Life of the American Musical, Jack Viertel
HHhH, Laurent Binet, translated by Sam Taylor
The Art of Fielding, Chad Harbach
Station Eleven, Emily St. John Mandel
Diana
Boy, Roald Dahl
(also kind of Station Eleven, Emily St. John Mandel)
(he's probably already read Nation, by Terry Pratchett but just in case)
To Say Nothing of the Dog, Connie Willis
Lock In or Old Man's War or Redshirts, John Scalzi
Elizabeth
Riveted or The Kraken King, Meljean Brook
An Inheritance of Ashes, Leah Bobet
The Long Goodbye, Raymond Chandler
Richard Armitage reading the audiobooks of Georgette Heyer
Snapple Alex
Alex's Father
The Only Rule Is It Has to Work, Ben Lindbergh and Sam Miller
Big Trouble, Dave Barry
Born to Run, Bruce Springsteen (which I assume your dad already has!)
something by Stephen Fry, perhaps The Hippopotamus
Alex's Mother
Tarcutta Wake, Josephine Rowe
The Night Circus, Erin Morgenstern
Hand-Drawn Jokes for Smart Attractive People, Matthew Diffee
2016 Best American Magazine Writing
Angelique
Midnight in the Garden of Good and Evil, John Berendt
Agent Garbo, Stephen Talty
American Revolutions, Alan Taylor
The Lost City of Z, David Grann
Under the Banner of Heaven, Jon Krakauer
Get at me on Twitter, email the podcast, and friend me (Gin Jenny) and Whiskey Jenny on Goodreads. Or if you wish, you can find us on iTunes (and if you enjoy the podcast, give us a good rating! We appreciate it very very much).
Credits
Producer: Captain Hammer
Photo credit: The Illustrious Annalee
Theme song by: Jessie Barbour