This is my master post for readathon, so strap in! I've never done one of these things before!
Hour 11
I was going to say that it's hour 11 and I haven't lost steam, but I seem to have read much less in the past three and a half hours than in the foregoing hours. Am I slowing up? Is my old age catching up with me? I did take a break to do some end-of-month budgeting and fold my laundry.
Read: 2 chapters of my genocide book (only 7 chapters now remain!), Paper Girls, vol. 1
Currently reading: Vision, vol. 1
Currently snacking upon: Nothing at the moment! I ate up all my raspberries and now regret not buying two things of raspberries. But it's five o'clock, which means it's time for a delicious, refreshing gin and tonic.
Hour 7
Fantastic news, y'all. The protag in Rulebreaker did indeed resolve her dilemma sexily. I chose Rulebreaker based on the results of my Twitter poll, then moved on to the runner-up, Angie Thomas's NYT-bestselling The Hate U Give.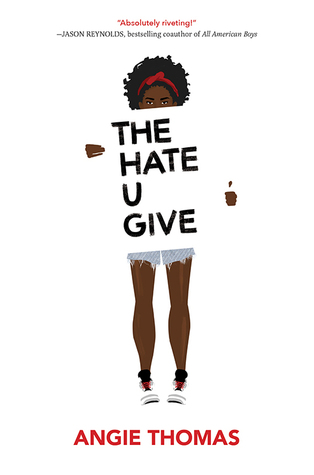 TWAS EXTREMELY SAD. And now I am back on the internets, checking in with my fellow readathoners.
Snacks eaten: Cheese fries. I meant to save them for later but I got super hungry.
Books read: One Crazy Summer, The Ship Beyond Time, Rulebreaker, The Hate U Give
Hour 4
Well this is going great so far. I read One Crazy Summer and The Ship Beyond Time (both awesome) and have now started on Cathy Pegau's Rulebreaker, a romance novel in which (ahaha I am so excited) a con lady FALLS FOR HER MARK oh noes how will she resolve the resultant moral dilemma? (My prediction: Sexily.)
I also participated in a mini-challenge over at Pirates and Pixie Dust, ate a chocolate marshmallow bunny, and took a quick break to visit with my baby nephew and deposit a check at the bank. Readathon is amazing. I always knew it would be and I was right.
Hour 0 Survey
1) What fine part of the world are you reading from today?
Louisiana! The weather is "who cares, I'm staying inside all day."
2) Which book in your stack are you most looking forward to?
This stack here?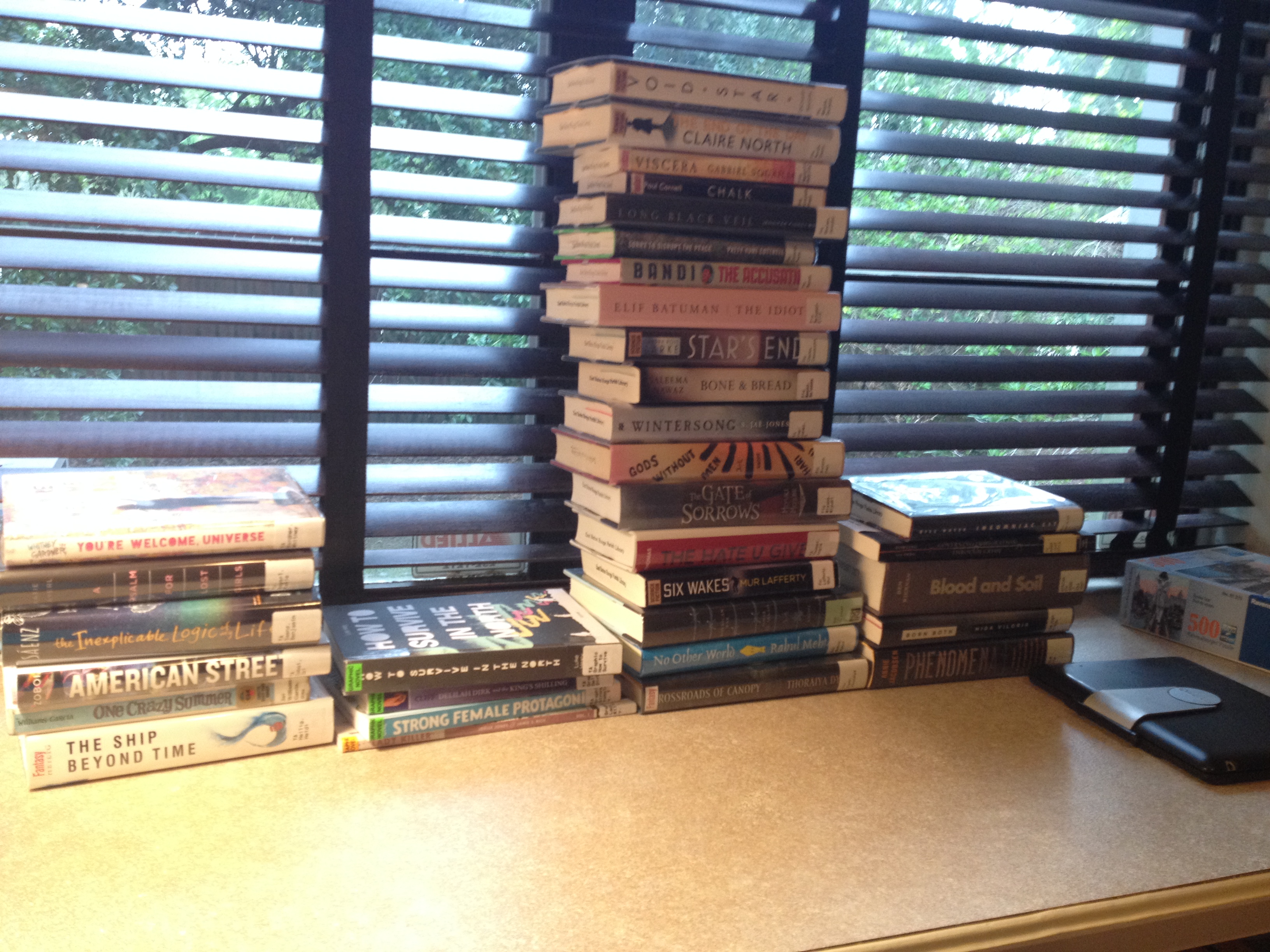 (Yes, okay, I went a little nuts at the library.) Hard to say! The Ship Beyond Time is definitely one that I'm excited about, and I also have a romance novel on my ipad about a con lady who falls in love with her target, which sounds pretty great. But One Crazy Summer might be the book I'm most looking forward to: It's been on my TBR for years and years, multiple bloggers have recommended it to me, and I'm only just now getting around to it.
3) Which snack are you most looking forward to?
ALL OF THEM. I never buy candy, but I bought candy this one time, because Easter-colored M&Ms were on sale for a dollar. So I have that, I have popcorn, I have raspberries and some spinach to keep things healthy, I have a jar o' cookie dough, I have homemade Oreos and also regular Oreos, and I have cheese fries for dinner. Judge not lest ye be judged.
4) Tell us a little something about yourself!
Gosh, what can I say? I've been blogging for nearly ten years (I KNOW), but I've never managed to do a readathon before. I'm very excited. I like cheese fries a lot. My reading eyes are bigger than my reading stomach. I am going to read at least 50% of one book while exercising this morning because I'm really, really trying to stay faithful about exercising.
5) If you participated in the last read-a-thon, what's one thing you'll do different today? If this is your first read-a-thon, what are you most looking forward to?
This is my first readathon, and I'm having feelings about it! The blogging community is objectively the greatest. I don't know why it took me this long to participate in one of these things.