AT LAST I HAVE TRIUMPHED. Many years have I been badgering my good friend Alice to do a readalong of Aurora Leigh; many years has she responded with limited enthusiasm to the prospect of reading a Victorian epic poem about a cranky lady poet. BUT I HAVE WORN HER DOWN.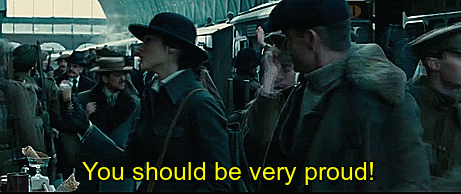 Thanks, Wonder Woman! I am proud!
So we are duly launching into the Aurora Leigh readalong, and I hope nobody hates it, since the fact that we're doing it is absolutely my fault.
The first book introduces us to little Aurora, whose mother dies when she is quite young and whose father dies when she is only thirteen. Having spent her childhood in Florence, she goes to live with an aunt in England, about whom Elizabeth Barrett Browning says this:
She had lived we'll say
A harmless life, she called a virtuous life,
A quiet life, which was not life at all,
(But that, she had not lived enough to know.)
I first read Aurora Leigh when I was trying to figure out my Career, and goddamn did these lines haunt me. But that, she had not lived enough to know. My recollection of this poem is primarily that it contains economically brutal descriptions like this throughout. I love Elizabeth Barrett Browning with all my heart, but I do not want her ever to describe me, please and thank you.
Aurora lives with her aunt and occasionally sees her cousin, Romney Leigh, when he comes home from school. They do not get along super well, but that's fine because he's not home very often, and Aurora fairly soon discovers her father's old books and goes diving into them like Scrooge McDuck into his pile o' gold.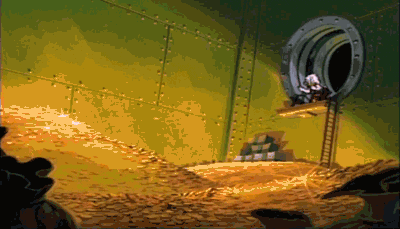 And then! She becomes! A poet! EBB goes into pretttttttty lengthy raptures over the art of poetry and how poets can See God and all this stuff that is probably a teeny bit hard to get through unless you grew up reading Emily of New Moon. Which some of us did. So I was fine with this. The downside is that it also caused me to read Romney Leigh, her naysaying cousin, as sliiiiiiightly Dean Priesty? Dean Priest is notably The Worst, so what I'm saying is that there's nothing from this point onward that EBB could do to get me on board with Dean Romney.
Actually, my main memory of Aurora Leigh overall, aside from that it contained these little diamonds of insight throughout, is that Romney is so awful at the beginning that I absolutely couldn't get on board with him as a romantic interest later on. Look at this nonsense he says to Aurora when he finds out she writes poetry!
The chances are that, being a woman, young,
And pure, with such a pair of large, calm eyes,
You write as well and ill upon the whole
As other women….
Sublime Madonnas, and enduring saints!
We get no Christ from you, and verily
We shall not get a poet, in my mind.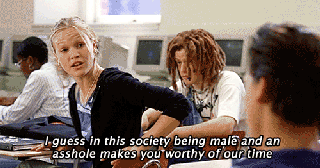 Apart from being a patronizing asshole, though, Romney seems like he'd be totally fun at parties:
The civiliser's spade grinds horribly
On dead men's bones, and cannot turn up soil
That's otherwise than fetid.
My dude, I agree with you, but you are having this convo with your much-younger cousin at the ass-crack of dawn. Maybe let a girl have her morning coffee before you start going at her about the fetid soil of civilization.
Well guess the ENTIRE FUCK WHAT. This fuckery was prelude to him proposing to her, and when she's like "Uh, you just super insulted me and my whole plan for my life, and now you want to marry me?" he hits her with this nonsense.
If your sex is weak for art
(And I who said so, did but honour you
By using truth in courtship) it is strong
For life and duty.
Y'all, like. I do not know how much gendered nonsense EBB had to put up with w/r/t her career as an author, but if this is the kind of shit people were saying to her, I am surprised she got through her whole life without setting anybody on fire. Anyway, this is how she describes Romney's proposal:
Come, I have some worthy work for thee below,
Come, sweep my barns and keep my hospitals,–
And I will pay thee with a common coin
Which men give women.
I'm telling you. EBB with these understatedly savage burns. I love her so much. Also:
"Did he ask?" I said;
I think he rather stooped to take me up
For certain uses which he found to do
For something called a wife. He never asked.
Her aunt, the one who OH GOD HAD NOT LIVED ENOUGH TO KNOW, that aunt, is like "Well, fine, you can choose not to marry him, but you're not going to have any money and you're going to starve to death in the streets because nobody else will ever look after you." Being a lady in the olden days sounds fun, y'all. This is Aurora's final answer:
But certain flowers grow near as deep as trees,
And, cousin, you'll not move my root, not you,
With all your confluent storms.
Romney tries to give Aurora some money through their aunt, but Aurora figures out what's happening and turns the cash down. They part, Romney to do Good Works in the countryside, and Aurora to attempt to become a poet in London.
Are you Aurora Leigh-ing along with us? What did you make of the first two books?