Happy, happy New Year! In today's abbreviated podcast, Whiskey Jenny and I talk about our podcast reading statistics for the year, our personal New Year's resolutions, and the New Year's resolutions we would like to see the publishing industry adopt. You can listen to the podcast in the embedded player below or download the file directly to take with you on the go.
Or if you wish, you can find us on iTunes (and if you enjoy the podcast, give us a good rating! We will appreciate it very very much).
Below is a beautiful chart created by Whiskey Jenny and her doting family, to track our reading statistics. You can see we read way too many books by white American ladies.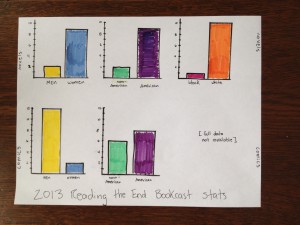 Credits
Producer: Captain Hammer
Photograph by the lovely Annalee
Special New Year's outro song comes from here.