Note: I received a review copy of The Bloodprint from the publisher. This has not impacted the content of my review. As Katie always says, it would take more than a single copy of a single book to buy my loyalty.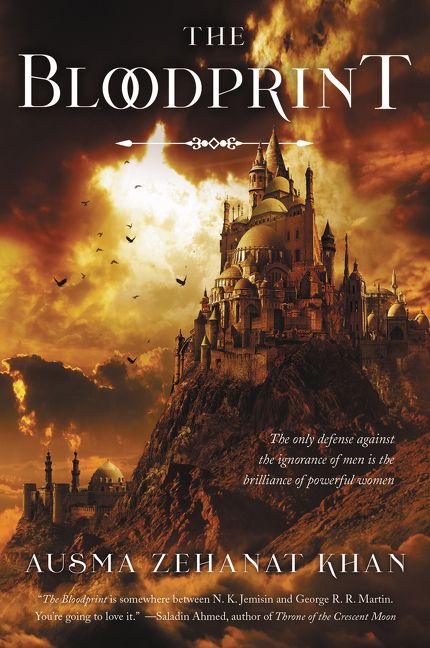 Arian is a warrior, linguist, and Companion of Hira, an order of women who draw their power from the Claim, a type of magic that draws its power from sacred scripture. They are battling against the Talisman, a movement led by the One-Eyed Preacher that seeks to eradicate scholarship and knowledge and the written word and to subjugate all the lands under an absolutist patriarchal rule. But Arian has a chance to find the Bloodprint, a physical copy of her faith's scripture — if she can undertake the dangerous quest to retrieve it.
I've been a fan of Ausma Zehanat Khan's for a while now. She gets me to read mysteries, and I never read mysteries! But her mysteries are grounded in history and grapple deeply with questions of culpability, complicity, and oppression, so they're catnip to me. The Bloodprint deals with many of the same issues: Arian's enemy, the Talisman, use a distorted version of her own faith to enslave women, brutally conquer every city in their path, and suppress literacy wherever they go. This is genuinely really hard to read in places, because the Talisman are destroying monuments and texts that Arian's order values deeply, but that cannot be replaced.
The Bloodprint is very much a road trip story, which is always fun for me. Arian travels with her apprentice, Sinnia; her friend and would-be lover, the Silver Mage Daniyar; and a freed slave named Wafa. They cover a lot of territory, and I was glad that Khan had provided vocabulary and character guides in the back of the book. However, things did tend to get a trifle complicated, in that way secondary world fantasies often do, where the writer has a lot of elements and is trying to introduce all of them in the series's first book. I got muddled in spots, and it wasn't always clear which names and concepts I needed to remember for later vs which ones were just there to provide local color on Arian's journey.
I gave up on secondary world fantasy years ago, when I started to notice how heavily inflected by imperialistic worldviews it all seemed to be. The Bloodprint, which draws on Islamic art, culture, and history, is a refreshing reminder that there's nothing inevitable about Eurocentric fantasy stories. I'm thrilled to see Ausma Zehanat Khan branching out from mystery into fantasy, and I'll look forward to reading more in this series.