It's Monday and we all probably all need some romance novels in our lives. Here are two new ones that you might want to pick up if you need something to get you through the holiday season. I received electronic copies of both of them from the publishers for review consideration, which did not influence my review because my good opinion is more costly than ebooks.
Wrong to Need You, Alisha Rai (Goodreads link!)
Sadia Ahmad owns a cafe, tends a bar, and raises her son. When her dead husband's brother comes back to town after years of radio silence, Sadia's tidy world is thrown into disarray. Then they bang. A bunch. (Wrong to Need You is the second in Alisha Rai's wonderfully angsty Forbidden Hearts series, but as with most romance serieses, you can read this one without reading the first one first.)
My favorite thing about Wrong to Need You is that Alisha Rai draws on tropes I love — a strong silent type for the hero, a stalwart single mom for the heroine, a resounding come-back-to-small-town-and-face-the-past plotline — and puts them in service of an emotionally satisfying story of two people trying to find their way. As in Hate to Want You, Rai gives her characters genuine flaws and struggles, which can't be brushed aside by some good sex. The obstacles that stand in the way of Jackson and Sadia's happily ever after are internal, but no less real: Each of the protagonists has to grapple with themselves and their past before they're able to embrace the possibility of a real relationship.
Rai also includes an excellent cast of secondary characters. The Kane and Chandler families make their appearance again in this book, and Sadia has family of her own: Loving, if sometimes pushy, parents, and four sisters who adore and support her, even as they have their own ideas about the choices Sadia should be making. Watching Alisha Rai flesh out the town and residents that populate the pages of her Forbidden Hearts series has been a treat, and Wrong to Need You delivered an eminently satisfying romance that left me eager for Eve's story.
PS I love it when romance novels set you up for what the next one's going to be. It's like the end of Nancy Drew mysteries. I love it. It's the best. This has not been sarcasm.
It Takes Two to Tumble, Cat Sebastian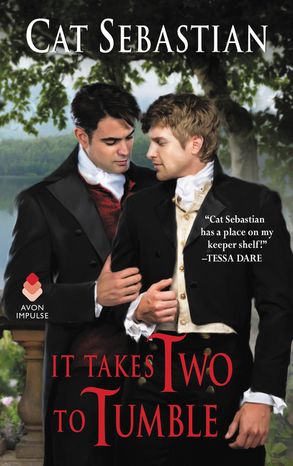 Much as I might like to try to summarize Cat Sebastian's latest historical romance (Goodreads link!), she has already written what is perhaps the world's most perfect summary of any romance novel ever. I give you:
It Takes Two to Tumble is the story of a free spirited vicar and a grumpy sea captain.  It's basically a gay, regency Sound of Music, with far fewer children and no musical numbers.
Yep. The vicar, Ben Sedgewick, comes from free-spirited parents who lived without regard to the niceties and rituals of regency England. In some ways this was great — his father doesn't much mind that Ben prefers men — and in other ways, it left Ben and his siblings adrift to manage for themselves. As an adult, Ben wants a life of comfort and predictability.
The sea captain, Phillip Dacre, plans to stop home just long enough to acquire a suitable tutor for his three children, now that their mother has passed away. But the children are running wild, and the vicar who's minding them (by climbing trees with them and doing fractions about how to divide their evening pie) keeps making him see things in a new light.
It Takes Two to Tumble is — typically for Cat Sebastian — an immensely sweet romance novel in which the principal characters achieve happiness by having lots of honest conversations with each other. Phillip is mourning the loss of someone he never confessed his love to; Ben is engaged to his closest friend, Alice, who he fears will be alone in the world if Ben follows his heart and cries off from the marriage. Both of them are devoted to the Dacre children, but neither can see his way clear to making a life with them — in spite of the children's obvious need for stability. There are also ducklings.
All in all, I tend to prefer a scootch more angst in my romance novels than It Takes Two to Tumble offered. But if you are on the hunt for something sweet and frank and open, hit up Cat Sebastian's latest. It comes out on December 12th.