Happy Sunday, friends, and welcome back to the third-for-me-but-fourth-overall Something on Sunday! I missed last week due to travel plans and being lazy, but from NOW ON there will be ALWAYS a Something on Sunday for y'all lovely people to splash around in. Here's what I've got.
Intisar Khanani, an author I adore and cherish, has landed a two-book deal with Harper Teen. They'll be reissuing her book Thorn, a marvelous retelling of "The Goose Girl," and she'll be writing a companion novel to go with it, tentatively called A Theft of Sunlight. Intisar Khanani seems like a truly lovely human person, and I am so happy for her to get this deal. I hope it leads her on from success to success, for she is marvelous.
The new Black Panther trailer is out and it looks amazing. This movie is going to make so much money. Just let me give you my money, Black Panther. But the gilding of the lily is that when Michael B. Jordan's casting was first announced, I desperately wanted him to be a bespectacled science guy. He's kind of the opposite of that? He's a muscley villain? BUT MY SPECTACLES WISH WAS GRANTED: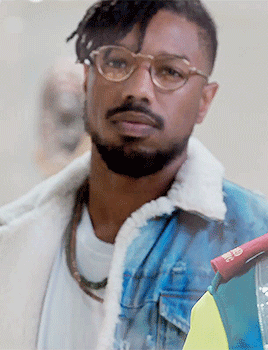 Dear Lord, thank you for this blessing. I will strive to be worthy of it.
A stranger on my bus caught me leaving my coffee mug behind me when I got up on Wednesday, and he stopped me and made sure I had it before I got off the bus. Yay for random niceness. Will try to pay forward.
Link up your Something on Sunday posts below! I have made my Mr. Linky thing work! I am a Linky genius!
Narrator: She was not.