Every month, Shannon of River City Reading hosts a public shaming group enjoyment of books we have out from the library in reasonable amounts. As usual, I have been doing a preposterous amount of library reading, because I go to the library every two weeks without fail, and it is my most favorite ritual in all the world. Here's how it all went down in the month of May!
Library Books Read
Guapa, Saleem Haddad
The Hero's Walk, Anita Rau Badami
The Drowning Eyes, Emily Browning
The Lost White Tribe: Explorers, Scientists, and the Theory that Changed a Continent, Michael F. Robinson
Bellweather Rhapsody, Kate Racculia
The Girl from Everywhere, Heidi Heilig
Everything Good Will Come, Sefi Atta
The Ever After of Ashwin Rao, Padma Viswanathan
Repercussions, Anthony Schneider
Returned Unread
Queen of Spies: Daphne Park, Britain's Cold War Spy Master, Paddy Hayes
and some other stuff, I honestly check out a preposterous number of books each time, how can I remember
Presently Checked Out
Nobody asked this question, but I'm telling you the answer anyway, because I deserve to be shamed.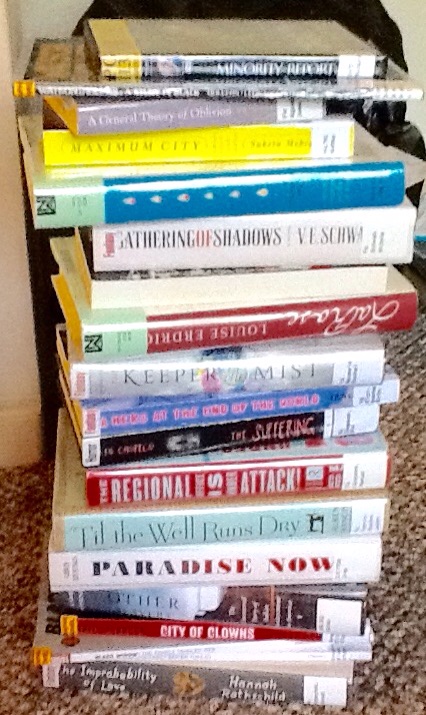 This is not all of the books I have checked out from the library right now. I have more than this that didn't get into this picture. I KNOW I AM SO WEAK.
How was your month in library?