Did you hear that I went to London? My beautiful London! I haven't been to London since 2009, in spite of my very intense love for it, so it was great to be reunited. I went with my lovely mum and my lovely friend Alice, which was an absolute treat all around. We had Ethiopian food and Persian food and delicious gnocchi and Pieminister pies, and I bought, um, a certain quantity of books.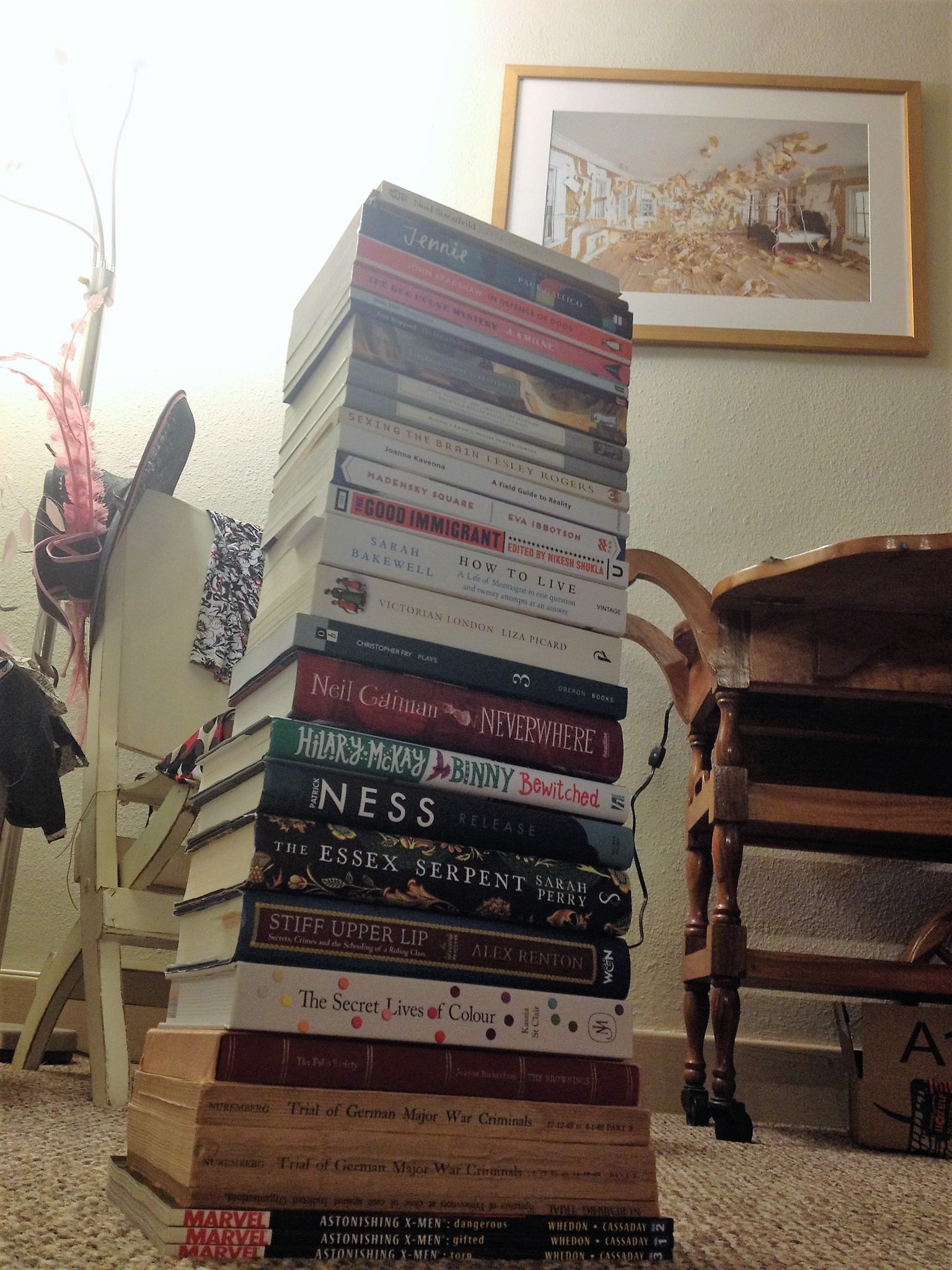 The thing is, London has kind of a lot of excellent bookshops, and I had left a lot of spare room in my suitcase, so. I mean. It's not really my fault, is what I'm saying. It cannot really be construed as being my fault.
Foyles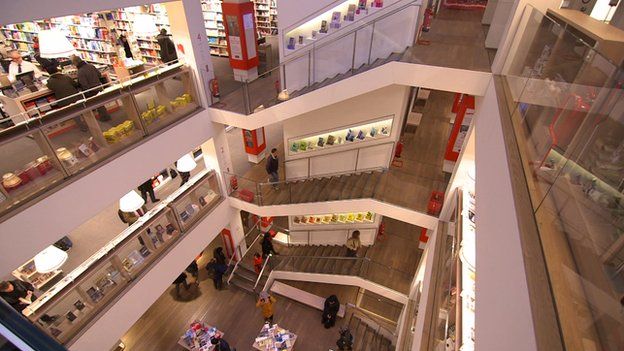 Let me tell you the problem with Foyles. The problem with Foyles is that the sections that in most bookshops are like, one single shelf out of a great big bookshelf? Those sections, in Foyles, are MASSIVE. Here is proof:
They have more than one storey dedicated to nonfiction. They have so many shelves of books in French that I had to whine for a while to drag Alice away from all her possible French book choices. Alice and I settled down in front of the English history section and made yearning-cat noises for like an hour. I got a copy of Paul Gallico's Jennie, a book about a boy who turns into a cat and befriends another cat called Jennie and the volume of Christopher Fry's plays that I don't already have.
I nearly bought a big volume of Brian Friel's plays, to get Translations, but I was like "Oh, Translations is famous, you'll be able to buy it just on its own somewhere." We also hunted for My Cousin Rachel, which Alice wanted, but Foyles did not have it.
The Other Bookshops on Charing Cross Road
Actually they seemed to be having a bit of a dry spell! Or else my interests have changed in the eight years since I last did this. I only got one book in like four Charing Cross Road bookshops, but it was a very good one: A Folio Society edition of the most adorable joint biography of the Brownings you can imagine. There's a quote in it where Samuel Coleridge's daughter gets sniffy about how into his wife Robert Browning was.
In all of them, Alice and I quested for a cheap copy of Return of the King for my mum, a used copy of My Cousin Rachel for Alice, and literally any copy of Brian Friel's Translations for me. No joy.
The Really Huge Forbidden Planet on Shaftesbury Ave
In addition to being an unimaginably massive comic book shop in its own right, our trip to Forbidden Planet also led us on a small detour to Seven Dials, of which Alice approved mightily. (I had never heard of it before, I ADMIT IT.) And then the theatre where Matilda was playing was right there, so we popped in to inquire about day tickets, and Alice, who is lovely, ended up taking us both to see Matilda that evening. Day tickets!
I wish I'd taken pictures. They had so many comics. They had more comics than I've ever seen in one place before. "Megastore" in this case was no idle threat. I didn't buy any comics, though. I figured I could get them for cheaper in America and they'd be too heavy for my suitcase.
However, I did — and I confess this freely — buy what I told Alice would be my third copy of Neverwhere, but it was actually my fourth. (I fessed up later.) I'm going to get rid of one of them though! And only have three, total! It's just that this one had these excellent Chris Riddell illustrations interspersed throughout, and Alice had never read Neverwhere before so I wanted her to get to read it while in London. MY MOTIVES WERE NOBLE is what I'm saying.
They did have Return of the King, but only new copies, and none for cheaper than eight pounds. My mum had stipulated a ceiling price of five.
Amnesty International Charity Bookshop in Cambridge
Try not to be jealous, y'all, but I met Ana. It was very, very, very exciting. We have been blog friends for nearly a decade. I hugged her so vigorously that she was probs like "this is too much hug," and then she took us on a tour of Cambridge, which was absolutely beautiful and which included a stop at this Amnesty International Charity Bookshop.
No shots at America, but Britain has really outdone us as regards charity bookshops. They have regular charity shops, which have book sections, but then they also have special charity shops that are just books. It's nuts! It's brilliant! I love it! I got a copy of a gender book Ana recommended, an old Noel Streatfeild book I hadn't heard of, and a totally nice hardback copy of The Essex Serpent for like four pounds.
No cheap copies of Return of the King or My Cousin Rachel. Nor Translations, although I wasn't particularly expecting it.
Heffers
Ana described this as the Cambridge bookshop, and I cannot disagree having been in it. I wanted to roll around in it. They had these lovely matching editions of all Dorothy Sayers's books, which I resisted only by reminding myself that if I bought one I'd have to buy them all, and they'd never all fit in my suitcase.
I did buy The Good Immigrant (at lasssssssssssssssssstttttttttt!), Patrick Ness's latest, and Hilary McKay's latest. My lovely mum also bought me one of these notebooks, which I treasure. I wish we'd bought ten. I love them. If you are in Oxford or Cambridge or Amsterdam, buy these notebooks! They are so beautiful and great!
Insanely, they did not have any Brian Friel (he is a famous playwright! what gives!) or any copies of My Cousin Rachel, the latter of which I put down to everyone having bought up all their stock in anticipation of the forthcoming movie.
Notting Hill Book and Comic Exchange
In the days of my wild and wanton youth, when I lived in London for a month, I haunted the Notting Hill Book and Comic Exchange, like, daily. I bought a ton of old Sandman single issues, which are the only floppies I own. I was delighted to see, on this trip, that not only is the Book and Comic Exchange still open, but it has now expanded into two separate storefronts: Books are in one shop. Comics (plus SF) are in another. BRILLIANT RIGHT?
Guess what they had: Brian Friel's Translations. At last my faith in London bookstores was justified! (NB it was justified already because Foyles totally had a bunch of Brian Friel omnibuses.) I also bought a copy of Tom Stoppard's latest play, which I thought was just okay but like, I have all his other plays? So it feels weird not to have this one too? Then I went next door to the comics section and bought three volumes of Joss Whedon's run on X-Men, which is mostly about Kitty Pryde.
No My Cousin Rachel. No Return of the King, if you can believe that.
This One Book Stall on Antiques Day on Portobello Road
I was all set to walk past this one! "I don't need any antique books," I said to myself with great certainty. But my mum stopped, so I stopped with her, and then the guy turned out to have an entire set of 1946 editions of the Nuremberg trial transcripts. I became so emotional over them that he gave me one for free when I bought three. I wanted to buy the whole set (this is becoming a refrain) but they wouldn't have fitted in my suitcase. In retrospect, honestly, I wish I'd just bought the whole set and figured it out later.
The Oxfam Books on Portobello Road
On our way back from a preposterously delicious meal at the Portobello Garden Caffe, my mum again voiced a wish for a cheap copy of Return of the King. I was like "Let's stop at that Oxfam! I have a good feeling about it!"
I was….not completely correct, insofar as they did not have any copies whatsoever of Return of the King. But you know what they did have? MY COUSIN RACHEL HUZZAH AT LAST CALLOO CALLAY.
Walden Books
On Saturday I met up with Book Snob Rachel and Stuck in a Book Simon and we did book-shopping and pizza-eating and chatted about books in a setting about which more anon. Walden Books is a dear little shop shop in North London which none of us had been to or heard of but which had a very nice used copy of Saplings as well as two (!) volumes of Mollie Panter-Downes.
The Oxfam Books in Hampstead
Then Rachel hauled us off to Hampstead to inspect the lifestyles of the rich and famous, and I finally finally finally found a cheap copy of Return of the King. The Oxfam bookshop, moreover, yielded a copy of Liza Picard's Victorian London, which someone sometime told me was really good. They had her Elizabethan London as well, but I was trying to exercise restraint by this point in the trip. Dear oh dear how bad at it I am where books are concerned.
I had actually meant to be done with buying books on the Thursday, as I already had assembled quite a stack of things. I was concerned that my stacks of books was too vast and too heavy to take back in my suitcase. "No more books," I said to myself sternly on the Thursday. "Maybe one on Simon and Rachel day. MAYBE." And then I went and bought five. So by Sunday morning, I was extremely confident that I would buy no more books whatsoever.
But then I packed. I packed my suitcase on Sunday morning, just to make sure that I'd have enough space for everything. And actually I had…kind of a lot of space left over? I mean, not a lot, but like, some space. You know how suitcases have that extra zip where you unzip it and it gives the suitcase a bit of extra width? I hadn't even unzipped that zipper, that's how much space I still had left.
It's also important to understand that Alice and I had been seeing Daunt Books bags all over London. Everywhere we went, we saw people with these Daunt Books tote bags. I asked Rachel about it, and she said, "Well, they give them away if you buy a hardcover. So everybody's got one." Alice asked one of her British friends, and her friend said, "Oh, you can't really call yourself a book person if you don't have a bag from Daunt Books."
I meeeeeeeeean.
Daunt Books
"Daunt Books is point-oh-seven miles from here," said Alice to me on Sunday morning.
"Oh we had better go check it out then," said I to Alice.
It wasn't the main Daunt Books. It was just the little one, the satellite one in Holland Park, so that was how I justified it to myself. I also had a plan that I could buy as few as zero but as many as five books there, if I ended up wanting to. Because of all the space in my suitcase. And because I wanted a Daunt Books tote bag.
I am happy to report that Daunt Books is not just coasting on its reputation. They are foremost a travel bookshop, but what that means in practice is that their shelves (I mean, they also have Fiction and Nonfiction general shelves, and Children's) are organized by country/region. Within that, they have travel books and nonfiction books about that country and fiction by authors from that country. Great, right?
So anyway I bought a book about the brutal boarding schools upper-class British children have to attend (BRUTAL) and a book about color that won me over with its exceptionally beautiful design and Sarah Bakewell's Montaigne book that Ana liked so much and had mentioned to me when I was in Cambridge so it was fresh in my mind.
And that is all the bookshops I went to in London. And in the event, my suitcase was under the maximum allowed weight by nearly two pounds.