Happy Tuesday! Today I'm collablogging (hm, that doesn't really work, does it?) with the fabulous Renay of Lady Business, Chelsea the Reading Outlaw, and Claire Rousseau, and we're all talking about the ten books we'd like to keep on a "to-lend" shelf (should our lifestyles support such a thing).
First up, I know because I nearly bought two copies at a library book sale recently that I like to be able to lend out Karen Joy Fowler's We Are All Completely Beside Ourselves. The un-spoiler-y version of the pitch is that it's about a girl who used to have two siblings and now has zero. You can have the spoiler-y version that got me to read the book in the first place in the following footnote.1
The People in the Trees, by Hanya Yanigahara, is my number two. Despite the utter weirdness of this book, and my great dislike of Yanagihara's entitlement and second novel, The People in the Trees remains one of the best reading experiences of my life. It's the story of the life of a fictional scientist — now disgraced after several of his foster children accused him of sexual abuse — who discovered the secret of immortality on a faraway Pacific island. Reading it made me feel like I'd never read a book before. I wish I could get everyone in the world to read this damn book.
The greatest triumph of randomly-picking-up-a-book-in-the-library since Diana Wynne Jones's A Tough Guide to Fantasyland, Joan Wyndham's Love Lessons remains a tricky sell because the title is blah and people are not exactly lining up to read old-time diaries all over the place. But maybe if I had some spare copies, that would change. It's the diary of a teenager in London during the Blitz, a description that is completely inadequate to describe how charming, funny, and strange Love Lessons really is.
One of these years, I am going to get Whiskey Jenny to read The Color Purple, by Alice Walker, with me. It's the story of a young black woman growing up in rural Alabama in the 1930s, and while it is tremendously dark in places, its luminous beauty and hope have kept it one of my favorite books of all time. Plus, it has queer ladies! Queer women of color in the rural South! Don't you want that? Of course you do.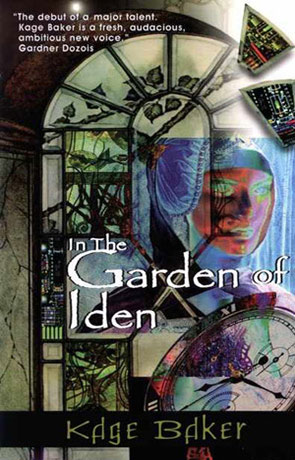 Again, I may be influenced here by my own recent book sale behavior, as I purchased a spare copy of this book there, but I'd love to share Kage Baker's book In the Garden of Iden with more people. It's the first in a science fiction series about time-traveling cyborgs who work for a futuristic Company. In the Garden of Iden follows the cyborg Mendoza through her rescue by the Company, her metamorphosis into a cyborg asset for the Company, and her life in Elizabeth England trying to rescue specific old-time plants from extinction. It's a fun book on its own and a wonderful first entry in a brilliant and gripping SF series.
Greensleeves, by Eloise Jarvis McGraw, is about an eighteen-year-old girl called Shannon who doesn't exactly know where she belongs or what she wants to do next. She does know that she's tired of being herself, and so she takes on a job as an investigator for a contested will, which requires her (well, she decides) to become a completely different person. Teenage me needed this book like oxygen, and it remains one of my very most favorite books in the world (that no one else has ever heard of).
In comfort food, I would include Hilary McKay's wonderful Saffy's Angel, a middle grade novel about a girl called Saffy who discovers when she is eight that she's adopted. Her siblings are really her cousins, and her parents are really her aunt and uncle. When her grandfather dies and leaves her "the stone angel, the angel in the garden," she decides to set out to find that angel (if it still exists). It's a funny, heartfelt dear of a book with a strong female friendship at its center.
If I had thought of it while I was at the book fair, I'd have bought the shiny new copy of Sarah Waters's Fingersmith and kept it for just such an occasion. When someone tells me they're in the mood for a book that's meaty, plotty, and well-written, Fingersmith is what I give them. It's about a queer girl running a con in Victorian London, and if that pitch doesn't get you then I don't even know what to say.
In This House of Brede, by Rumer Godden, is about a businesswoman who decides to become a Catholic nun. A proper one, who stays all the time in the convent. Not long after Philippa arrives, the brilliant, complicated Abbess Hester dies, and the convent is plunged into financial crisis. It's a bit like a boarding school book with adults, lots of politicking and internal conflict, and it's among my favorite books by one of my all-time favorite authors.
And finally, my beloved, cherished Sunshine, by Robin McKinley. For reasons not entirely clear to me, this vampire dystopia has become one of my dearest comfort reads. It is about a girl called Sunshine who gets kidnapped by vampires as she's visiting a lake that should have been relatively safeish. She finds herself sharing a cell with a vampire, whose meal she is supposed to be; but instead they form a kind of alliance. Sunshine does vampires in a brilliantly specific and visceral way, and seeing Sunshine come into her own as a vampire adversary is A+ terrific.
What books would be on your to-lend shelf?
(PS I asked my mum to help me come up with books for this project, and she became very excited about the idea of my having a to-lend shelf. "Mama, no, it's for a blog post!" I kept saying, and she kept handing me spare copies of her favorite books and saying "Start the shelf! Start the shelf! Now you have three books to put on it!" So now I have an actual, literal to-lend shelf. You're welcome, guests.)
One of the siblings is an ape, because the protagonist, Rosemary, was raised in a family that was conducting ape language studies. ↩