If you follow me on Twitter, you may already have seen me shrieking about Hamilton's Battalion, a collection of novellas by three of my favorite romance authors. But I'd like now to review it in a more measured fashion, after some days with the text and a mature1 consideration of its merits.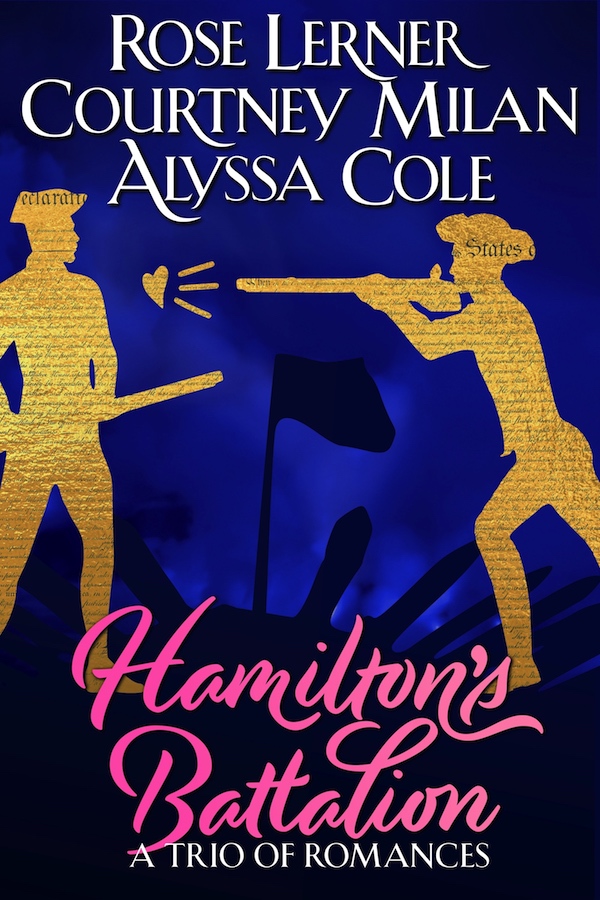 Ha! You thought I was going to put an all-capsy shrieky paragraph down here after the cover, didn't you? You thought all that maTOOR business was setting up a joke, but it wasn't. That's just how I say mature, which shows that I am a sophisticate.
The first thing that struck me about Hamilton, the very first time I heard it on NPR First Listen,2, was its fundamental hopefulness about the American experiment. It used a story about America's past to propose a version of America's future that felt optimistic and worthwhile and attainable.3 Hamilton's Battalion is a worthy successor to the musical that inspired it, espousing hope in the project of nation-building without ignoring the failures that inevitably accompany that project. It's also a darn good on-ramp to the genre for Hamilton fans who are romance newbies.
Let's get into the novellas!
Second Chance at Love: "Promised Land," by Rose Lerner
Rachel fled her wifely duties years ago and now fights the British in the disguise of a man; but when her husband is captured as a spy and brought into her camp, she has to face the life she left behind.
Rose Lerner packs a ton into this short romance: Rachel and Nathan have much to blame each other for, and they spend a lot of the story properly talking about where they went wrong with each other, and why. When they eventually reunite, it's with a new understanding and acceptance of their differences — which is what Rose Lerner excels at, and why she's one of my faves.
"Promised Land" also talks about religion in this way that I rarely see in fiction. Rachel and Nathan are both Jewish, but Rachel has fallen away from some kinds of religious observance since she left home — by necessity and by desire. As the book goes on, she and Nathan talk about the different practices of faith, and why they matter, and what they want for themselves as Jewish Americans. I cried a lil bit. Don't judge me.
Road Trip: "The Pursuit of…", by Courtney Milan
This one's about a free black soldier who stumbles upon a British officer just as the war is coming to an end. John and Henry wind up traveling together in part because Henry can't think of anything else to do with himself — he's deserted his post and would face only disgrace if he went back to his family.
Eh, this was my least favorite of the bunch. I loved the conversations John and Henry had about worth and freedom and espoused vs practiced American values. I just didn't care for Henry. He's that chatty nonsense-talking brand of Milan hero that's never done it for me in her past books, and didn't do it for me here. But I understand from other reviews that I am in a heavy minority. "The Pursuit of" has a road trip and much discussion of values, and if you like those things you'll probably like it. I have failed this city.
Chaos Muppet & Order Muppet: "That Could Be Enough," Alyssa Cole
After years as Eliza Hamilton's servant, Mercy has seen enough of love to know that she doesn't want anything to do with it. But she begins to reconsider when her household is visited by a confident, vivacious dressmaker determined to draw Mercy out from the limitations she's imposed on herself.
I don't know if unified Muppet theory is the best way to describe this story, actually! What I like about it is similar to what I like about the Jane Eyre / Rochester romance, i.e., the inherent funniness of someone friendly and verbal and external hooking onto someone who holds everything very close to their chest, and then being relentlessly nuts about them, no matter how confusing the unfriendly one finds this. That's this novella. As a not-un-walls-having person myself, I found it really poignant to watch Mercy discover that all the acceptance she's been too frightened to ask for was at her fingertips all along. And I loved how reluctantly drawn she is to Andromeda from the first minute they meet. It's a lovely story with (of course!) a happy ending.
Hamilton's Battalion is poignant and clear-sighted, but somehow joyous too; a wonderful collection of stories about the unquashed and unquashable potential of our country and its people. (And love, obviously.)
Pronounced maTOOR, naturally ↩
This happened the same day we found out David Cameron fucked a pig, so a p. good day all told. ↩
I maintain that Hamilton, like many historical fictions, is about our time and not its. That doesn't solve the problem of its ignoring the existence of indigenous peoples who were violently displaced in the name of the American experiment. ↩