Y'all. This tag. The Disney Song Book Tag was created by Aria's Books, and I picked it up from Rachel at Life of a Female Bibliophile.
1. "A Whole New World" – Pick a book that made you see the world differently.
This may not count, because I barely saw the world at all prior to reading these books. However, I'm still choosing the Chronicles of Narnia. My mother read these books to me and my sister starting when I was three, so there's not much in my life that didn't get put through the Chronicles of Narnia goggles. I still experience quite the frisson when I see a lamp-post. Esp in the snow.
2. "Cruella De Vil" – Pick your favorite villain.
Gotta be the other mother from Coraline. In case she's been missing from your nightmares lately, permit me to refresh your memory: SHE HAS BUTTONS FOR EYES.
3. "I Won't Say I'm in Love – Pick a book you didn't want to admit you loved.
Honestly, as I get older and older, I am less and less closety about reading non-prestigious things. I'm going to say P. C. Wren's Beau Geste and its sequels. They are those Edwardian-era adventure novels that are ideologically troubling on, like, a lot of levels? My fave is problematic.
4. "Gaston" – Pick a character that you couldn't stand.
The thing is that I love Gaston. Instead of picking a character I couldn't stand, I shall pick a character who I would hate in real life, but because they're fictional, I get a huge kick out of spending time with them. And I choose Henry Winter from The Secret History. That dude is creepy? Yet so plausible that he's capable of convincing people to commit legit murder.
5. "Part of Your World" – Pick a book set in a universe you wish you could live in.
OBVIOUSLY HARRY POTTER.
6. "A Dream Is a Wish Your Heart Makes" – Describe what the book of your dreams would be like.
Gosh. What would it be like. It would probably have a boarding school. Maybe there would be a dystopian situation? Like a boarding school in a dystopian universe? Plus with lady characters forming bonds and showing up for each other?
7. "Someday My Prince Will Come" – What book character would you marry if you could.
Sherry from Greensleeves. Greensleeves is an amazing book by Eloise Jarvis McGraw that people do not appreciate enough even though it is now available for purchase through your favorite online retailer. Sherry from Greensleeves is curious about everything, reads constantly, and pays attention to other people. Best.
8. "I See the Light" – Pick a book that changed your life.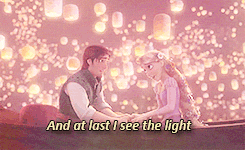 Oo tough one! Let's say, Neil Gaiman's Sandman. They at least changed my reading life. Prior to reading Sandman, I was not a comics gal. If you're not a comics gal, I do not recommend making Sandman your gateway drug. It has kind of a challenging panel structure. However, if you do make it through ten volumes of Sandman, you will come out the other end a legit comics gal. So it was with me.
9. "When You Wish upon a Star" – Pick a book you wish you could reread for the first time.
Jane Eyre. Of course, Jane Eyre. No, it's not my favorite book of all time, but it's not not my favorite book of all time, and reading it for the first time was, and would always be, an incredible experience.
10. "I Just Can't Wait to be King" – Pick a book with some kind of monarchy in it.
How about Hilary Mantel's Wolf Hall? I read this last year and was surprised to find that it's wonderful! Mantel is brilliant at bringing historical figures to life, even ones who are larger than life in the first place like Henry VIII. WHY MUST ANNE BOLEYN DIE IN THE SECOND BOOK WHY OH GOD.
11. "Colors of the Wind" – Pick a book with a beautiful colorful cover.
Maggie Stiefvater's Blue Lily Lily Blue. All of the books in this series actually! But Blue Lily Lily Blue has to be the most beautifulest one of all!
GLORIOUS. DISNEY SONGS.