Note: In the course of writing this blog post, I arrived at semantic satiation for the word speak, and maybe you will too.
In Speak Louisa Hall plays around with concepts of speech and personhood and artificial intelligence. In alternating chapters, the reader hears from Alan Turing, one of the pioneers of artificial intelligence; Mary Bradford, a seventeenth-century diarist on her way to a new life in the New World; Ruth and Karl Dettman, who together (but separately) created the first iteration of an AI called MARY; Stephen Chinn, who built MARY into something dangerous and is now writing his memoirs from prison; and a traumatized girl called Gaby who is trying to make sense of what her engagement with AI has made her.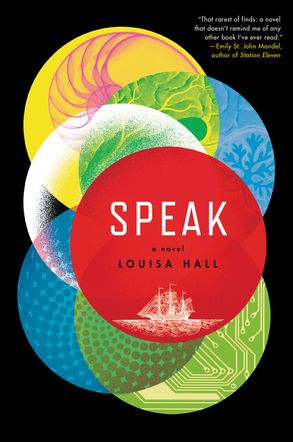 Cosmetically, Speak is ruhlly baller and deserving of every rave it's received so far (including one from Emily St. John Mandel, the author of last year's sci-fi-with-aspirations-to-greatness novel). Her writing is lovely, and in general the different point-of-view characters have distinct voices. And y'all know I'm about an epistolary novel, which I'm going to say this counts as. For the first third or so of this book, I wanted to drop messages to all my sci-fi-loving friends to order them to read it.
(Can you sense the slow and inevitable arrival of the word but in this review?)
BUT, The book petered out in the second half. It was still an enjoyable read, because Louisa Hall's a fluent and impressive writer but OH DEAR I fear this is a very cutting criticism so let's hope Louisa Hall never comes to hear of it: I am not sure she has anything actually to say about all the questions she raised so eloquently in the first half. The book ends in a sort of, Yes, these are questions, maybe they are important, who knows, kind of way. It felt timid, when I wanted it to be audacious, which is the word everyone has used to describe this book.
Another thing it does not do, and what a missed opportunity, is gather all of its threads together in a satisfying structural manner. Louisa Hall makes a couple of stabs — including a painfully explainy one at the end — at clarifying to the reader why all these people are connected, and it feels awkward. The author shouldn't have to explain it; the book should make its own case, and Speak really doesn't.
For as negative as all this sounded, I liked the book a lot. Did I want more from it? Yes. Was it an absorbing and wonderful reading experience? Yes. A very conflicted three stars.
Friend Teresa, your attention please! I think this is more of a you book than a me book, so perhaps give it a try if you get a chance. You have more patience for beautiful prose at the expense of other book elements than I have.